I feel very lucky to have found a career doing something that I would do anyway as a volunteer. In fact, I got to where I am today by first volunteering with my local municipal animal shelter. Even now as a full time animal rescue photographer, I still volunteer with other rescues, shelters, and organizations as often as I can. But over time I have realized that I couldn't–and more importantly, shouldn't–volunteer as much as I want to volunteer. Compassion Fatigue is a serious thing and it's really important for me to make time for my own life, my family, my friends, and my pets. That's why I'm pretty selective when it comes to taking on freelance and volunteer projects. And that's why I love volunteering with Foster Dogs. They support all different NYC-area rescues and work with lots of other volunteer photographers so it's one big happy team effort all focused on getting more dogs in homes. So when Foster Dogs asked me to do a photo shoot for a very special senior dog, I jumped at the opportunity.
After months of planning and coordinating (and a few impromptu photos at Foster Dogs' My Furry Valentine event in February), we finally arranged a sunset beach photo shoot on a Saturday in early June. When Kayla's foster mom Jillian emailed me that morning and said they were planning to take Kayla to Coney Island Pet Day before the photo shoot, I dropped everything I was doing and hopped on a Q train* to meet them there. How could I pass up such an amazing opportunity? All Jillian had to say was "dogs get to ride the Wonder Wheel" and I was in!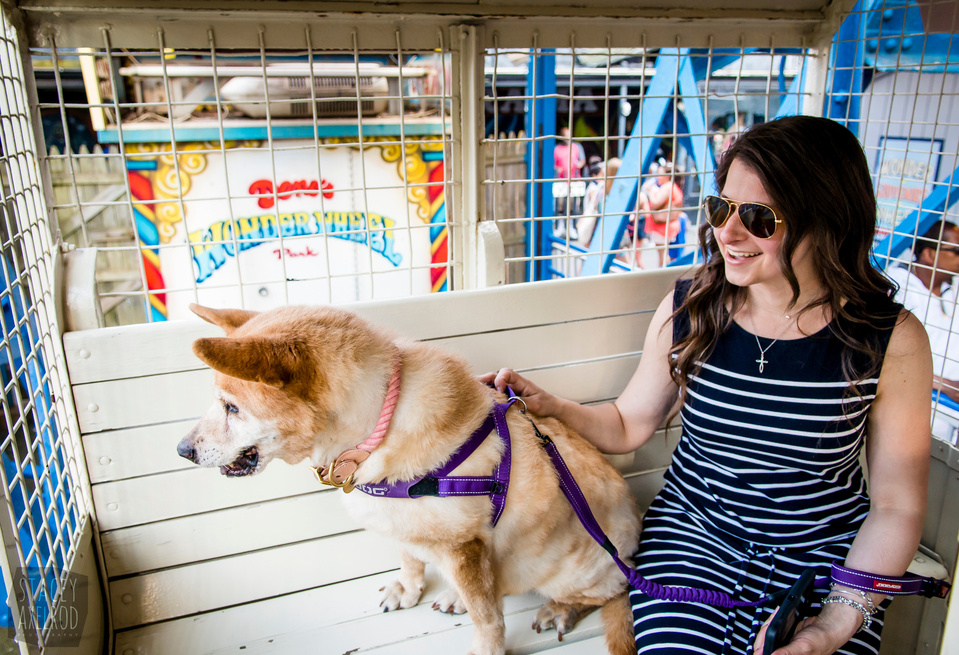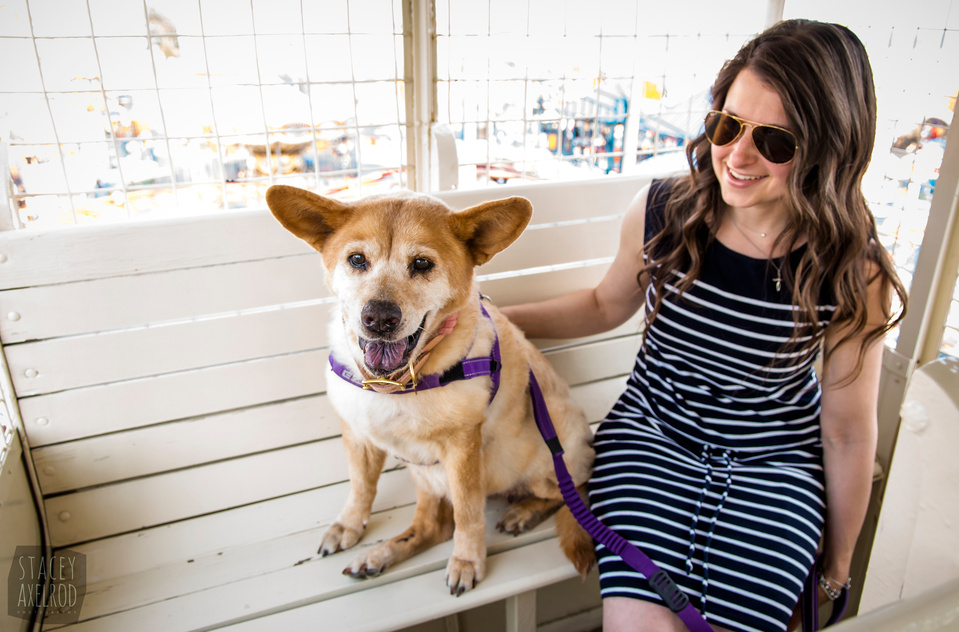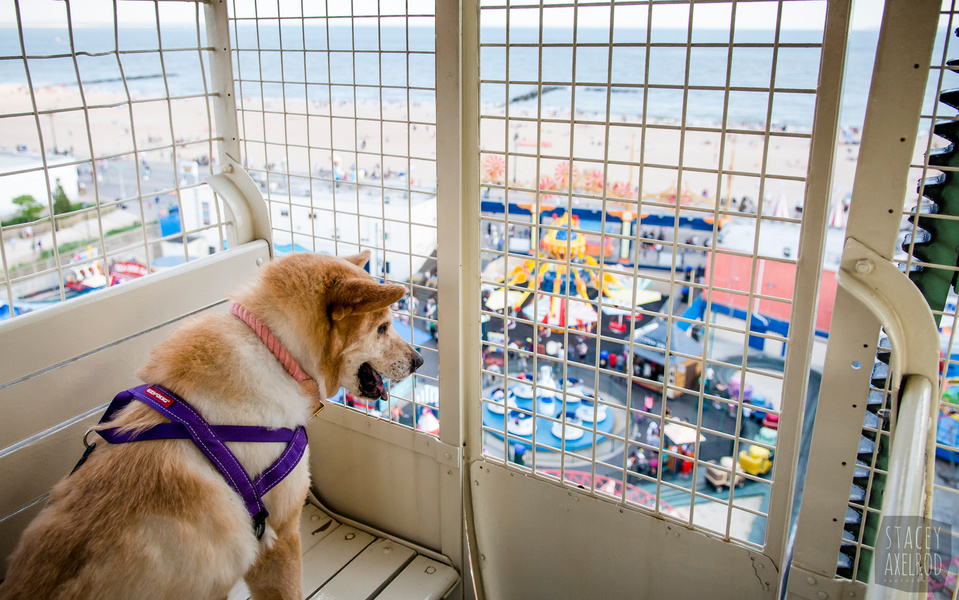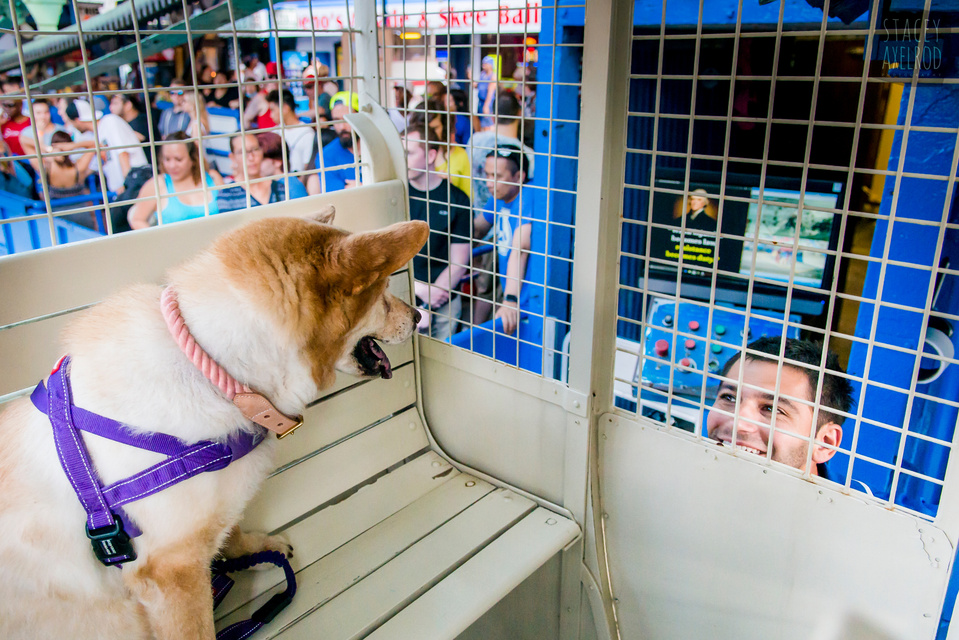 Kayla lives a pretty fantastic life with her "forever foster" family near the beach in Brooklyn. She has 5 human sisters, 6 canine siblings, one feline sibling, and an ever-changing group of foster dog siblings to keep her company on her daily walks through beautiful fields and beaches. She attends parties with Chloe Kardoggian and BarkBox, visits FDNY stations as an honorary firedog, gets showered with donated gifts from her Amazon Wish List, and helps everyone she meets learn about senior dogs and adoption. You'd never know that this spunky pup was found abandoned on the streets and then given 3-6 months to live.
In late 2016, 12-year-old stray Kayla was brought into Animal Care Centers of NYC and, with the help of Susie's Senior Dogs, she was quickly pulled into the care of Animal Haven. That's when a vet diagnosed her with oral melanoma, MRSA, and kidney disease. Since Kayla was not in pain and still able to live a mostly normal life with medication, Foster Dogs accepted her into their Fospice Program so she could live out her last 3-6 months with love, comfort, and lots of goodies.
Well that was almost 9 months ago and Kayla is still taking her regular walks to the beach!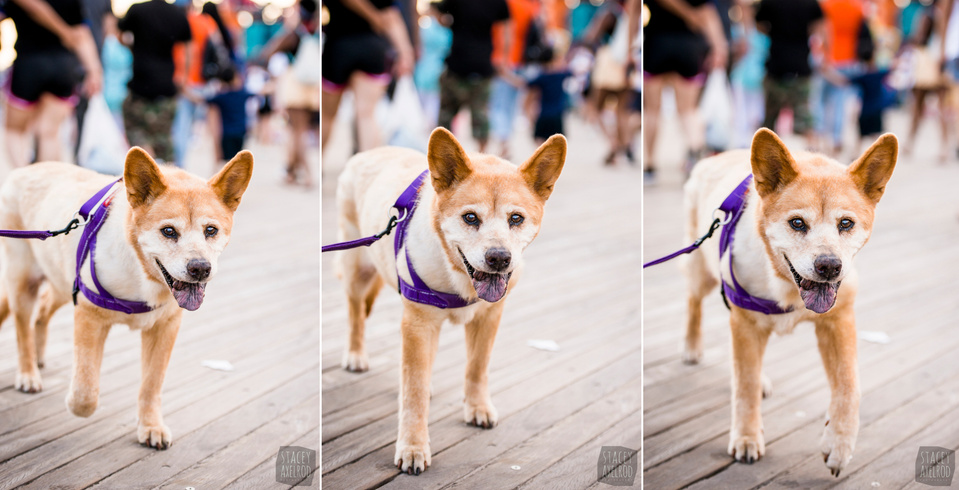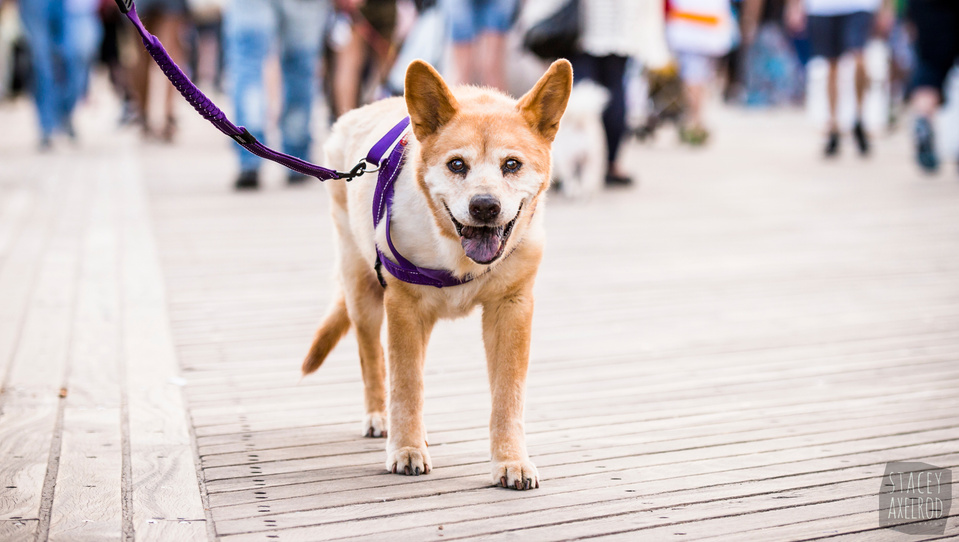 Kayla really won the lottery when it comes to fospice families. Jillian took her in just a few weeks after losing her beloved dog Chloe to cancer. "Chloe was adopted at 10 weeks old, so I was able to raise her from a baby and experience all of her life with her," Jillian told Foster Dogs. "So many dogs aren't that fortunate, and are often alone during their times of illness. I felt compelled to do fospice and I'm so grateful that Kayla came into our lives. It's a little soon after Chloe, but Kayla needs us!" Jillian, her husband Rob, and their 5 kids all pitch in to make sure Kayla lives the best life possible. With help and support from Animal Haven, Foster Dogs, Susie's Senior Dogs, and Kayla's many generous fans, she visits the best vets and groomers to keep her healthy and comfortable, attends hydrotherapy sessions to stay active, and gets showered with love everyday.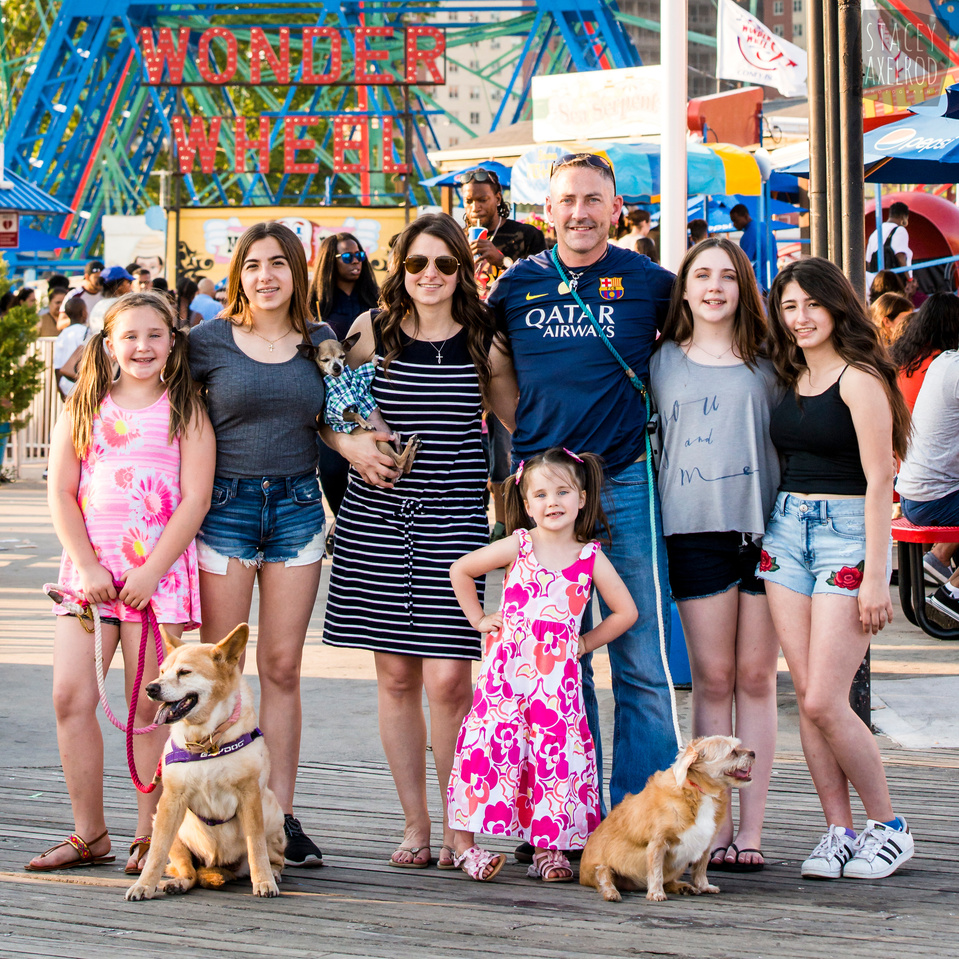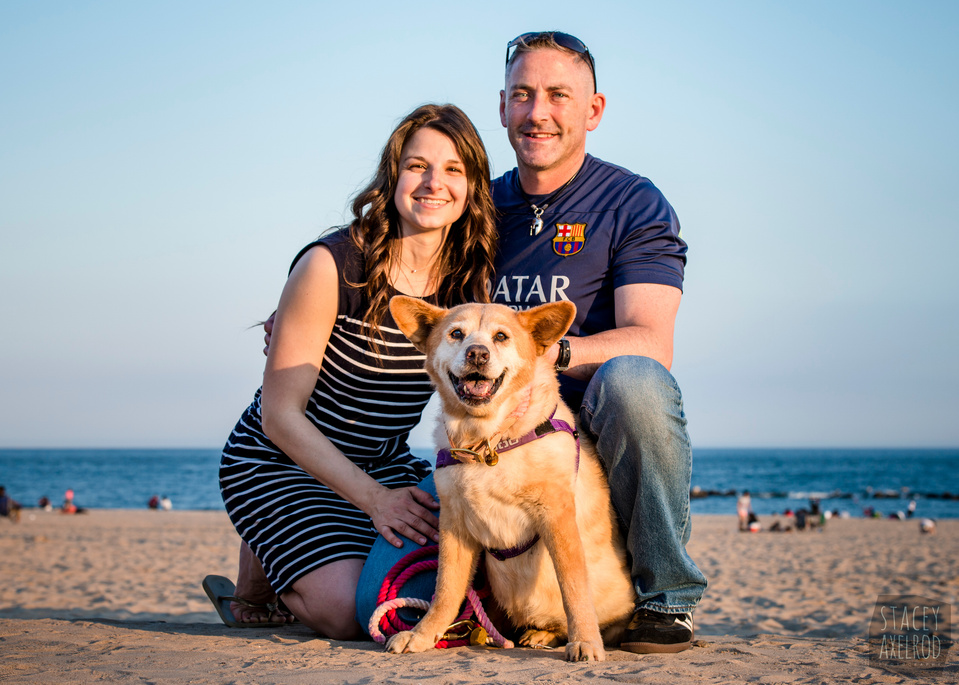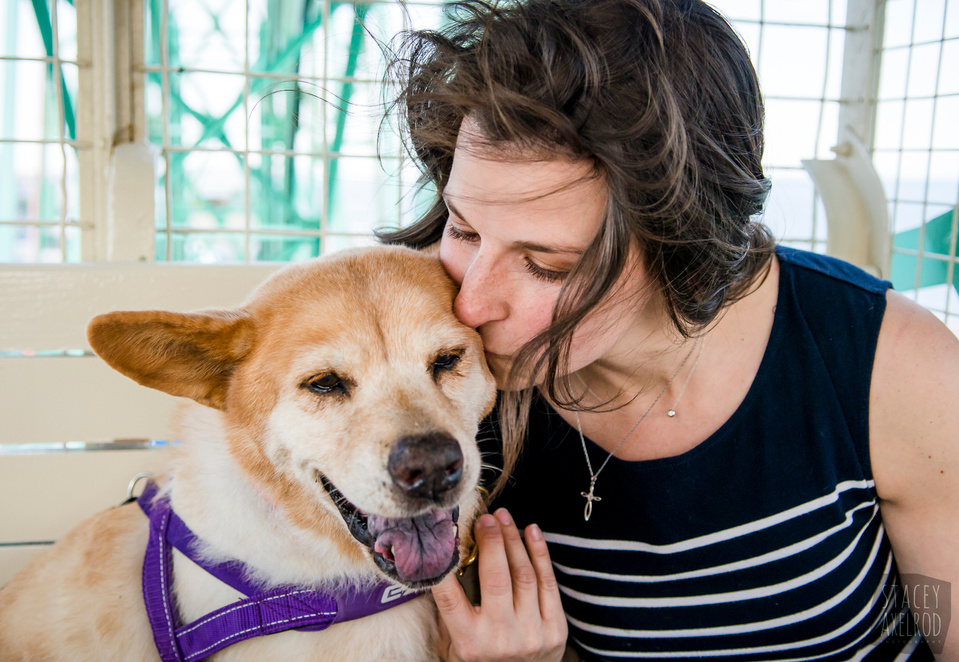 Despite her weakened immune system and physical limitations, Kayla had no problem enjoying all of the fun at Coney Island. She rode the Wonder Wheel, shared boardwalk snacks with her family, strolled along the beach, and even ate an entire hot dog from the original 1916 Nathan's Famous hot dog stand!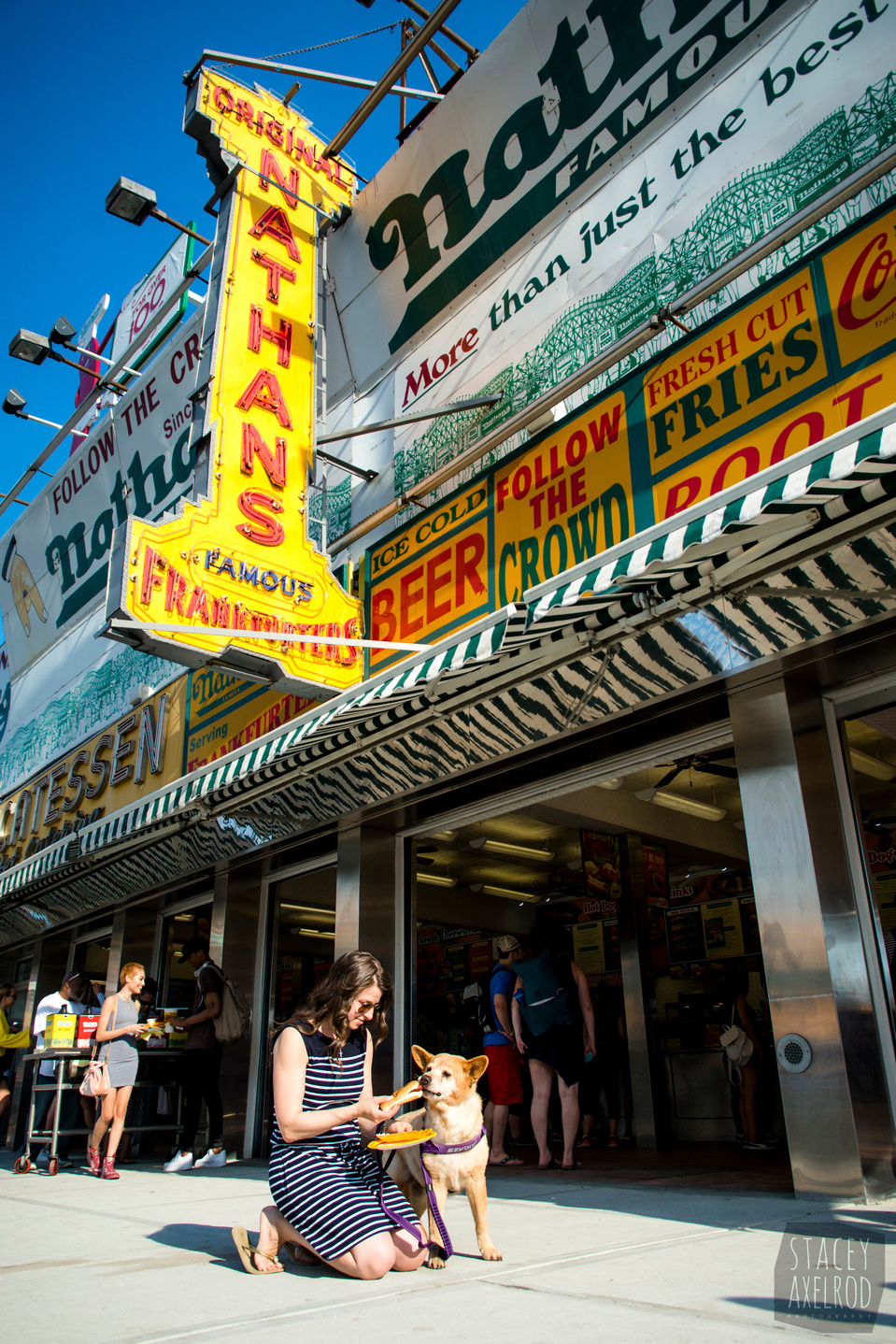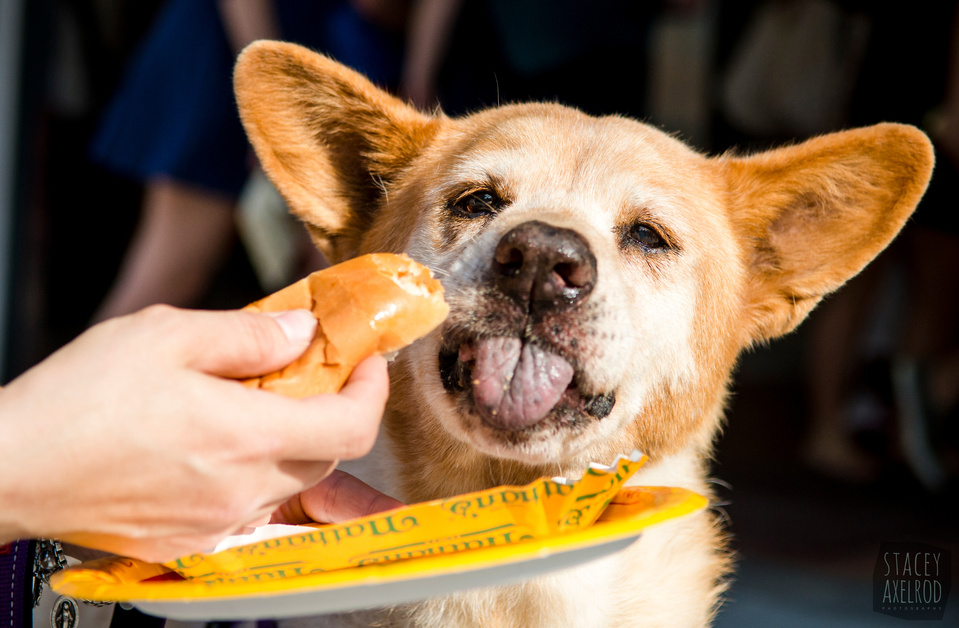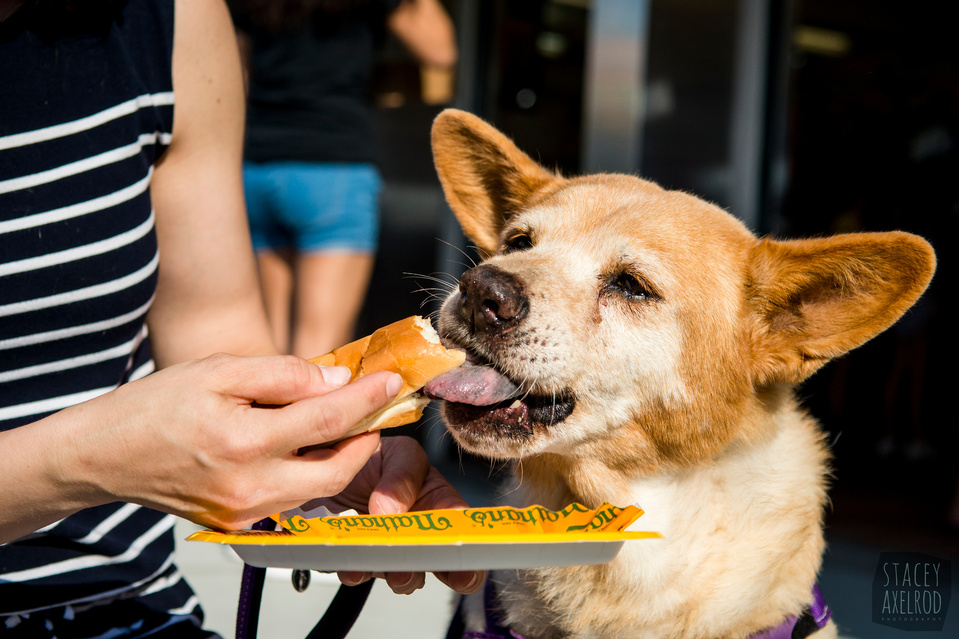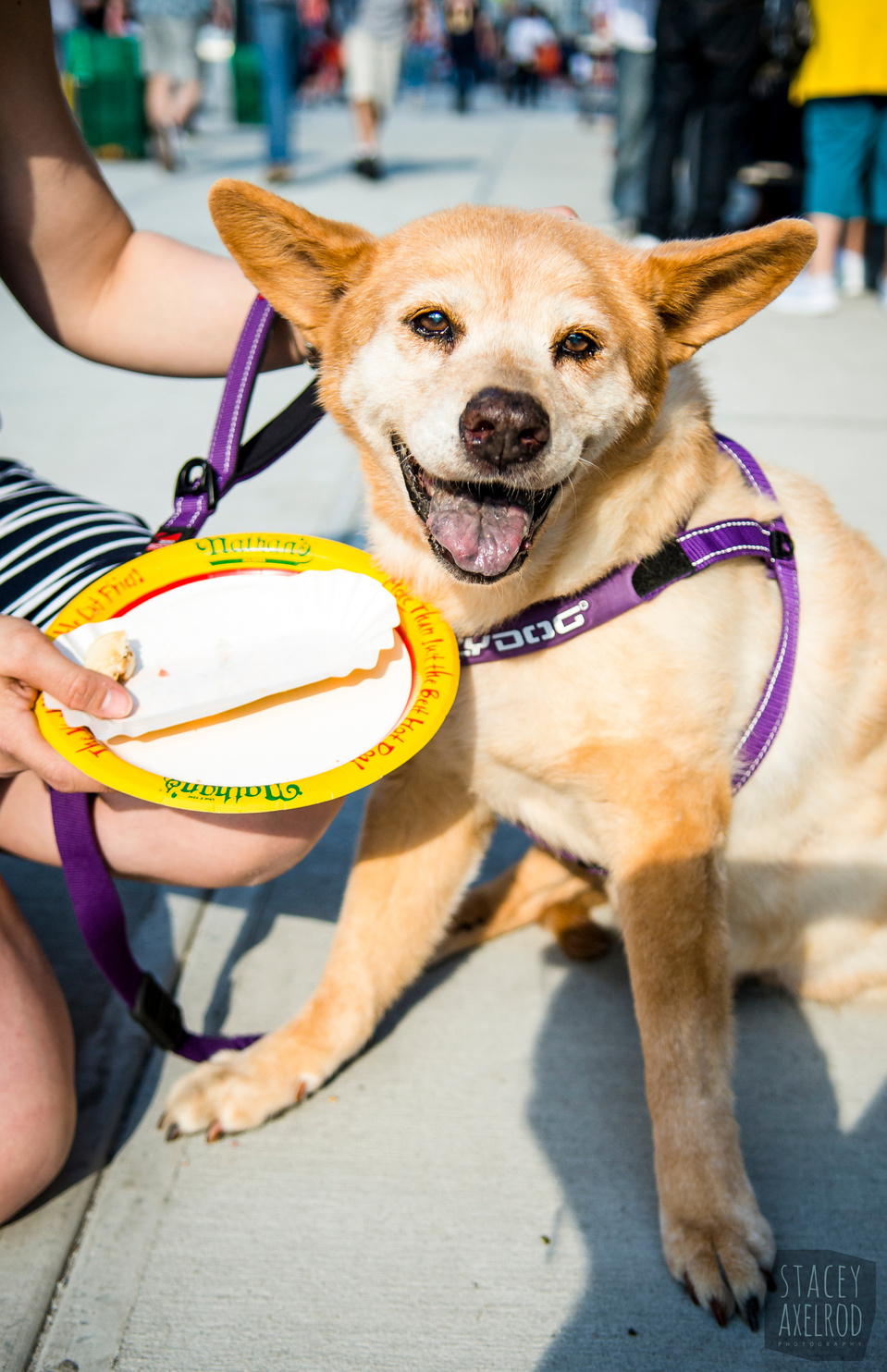 Believe it or not, this was my first trip ever to Coney Island. Despite growing up in New Jersey and living in NYC for the last 3+ years, I still had never been to this famous beach. To be honest, I'm just not a beachy person–I turn into a lobster after 10 minutes in the sun, I'm not a good ocean swimmer, I don't like the feeling of sand, crowds make me uncomfortable, I hate most amusement park attractions, and I'm terrified of those costumed character things. You're more likely to find me hiking in the quiet mountains or swimming in a lake.

But Kayla is a beach dog and her family is a beach family, so there was never any question about doing this photo shoot at a beachy location. My main goal with any fospice photo shoot is to show each dog in their natural home habitat and to show the devoted relationship that develops so quickly between foster parents and the dogs they care for so deeply. Every fospice story is as much about the caretaker(s) as it is about the dog. That's why Jillian is featured in a lot of these photos; she's an inspiration and the #1 reason why Kayla continues to beat the odds with that big smile on her face.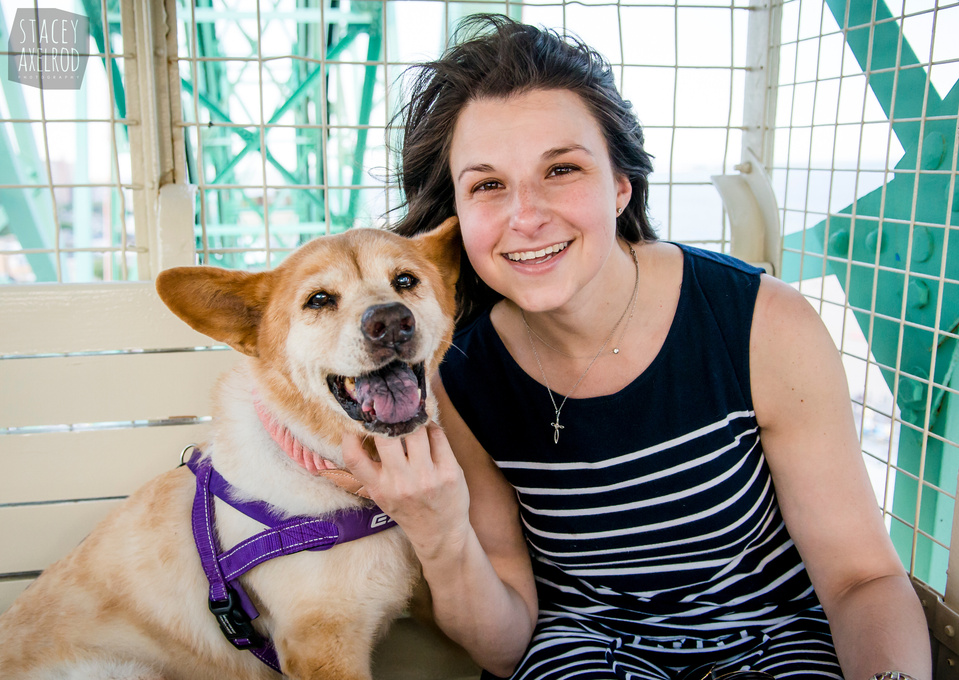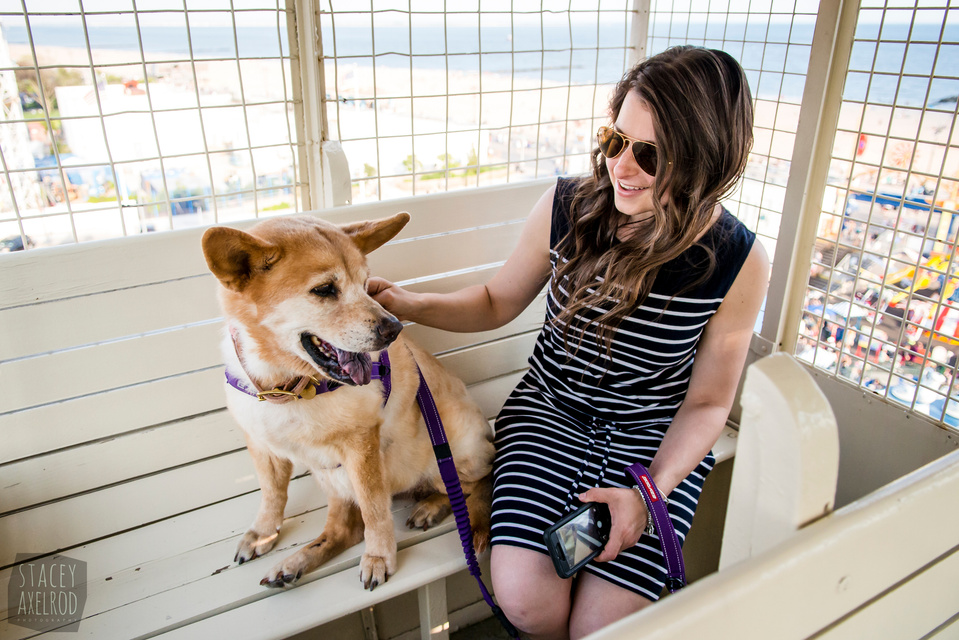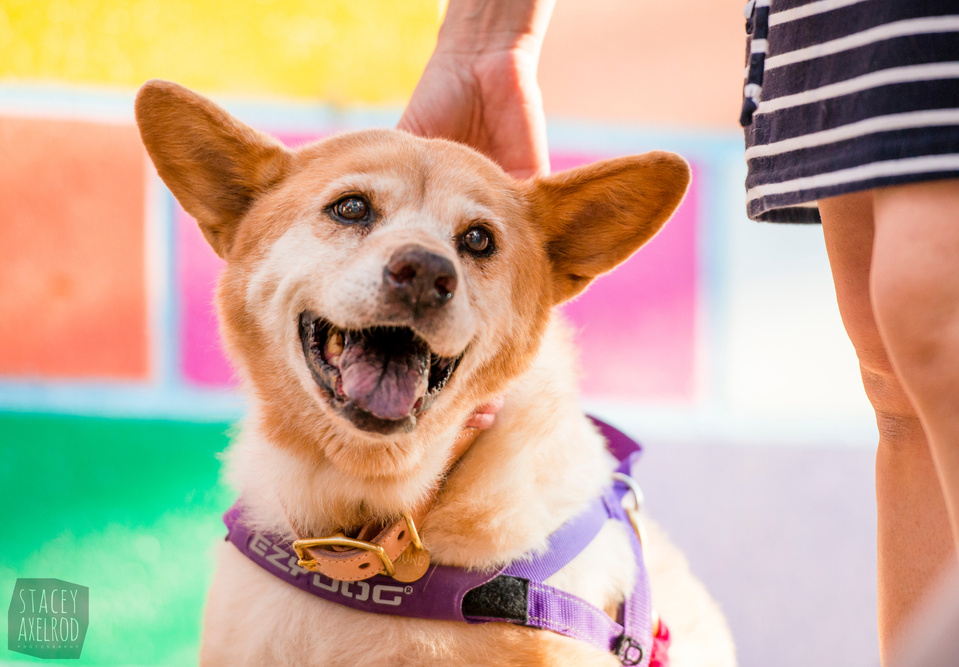 (The adorable chihuahua featured in two of the photos above is Jillian's latest adopted senior dog Rio - @thischiwalkswithgiants)
The only slightly difficult thing about this photo shoot was getting Kayla to look at the camera since she's deaf. I depend pretty heavily on making crazy sounds whenever I'm doing a dog photo shoot. But all my barks, squeaks, whimpers, meows, and pig snorts wouldn't work this time. Fortunately I had just photographed a few deaf dogs at the Best Friends Pet Adoption Center (my new full time gig!) so I was ready with all my arm waves, wacky dances, and pure patience. Plus Jillian's 5 daughters were a huge help. Photographing a deaf dog is always an interesting and welcome challenge for me.
Of course, Kayla's personality shines through no matter what! Plus, there was no shortage of funky backgrounds to use at Coney Island so it didn't even matter if Kayla was looking at the camera all the time. This brightly colored geometric wall near the Wonder Wheel was one of my favorite spots for photos.
It is an absolute honor to be included in Kayla's fospice journey and to tell her story through photos.
*Fun side story that is probably only interesting to other New Yorkers, specifically Upper East Siders: It was really exciting for me to ride the Q train from end to end! I got on at the newly-opened and much-celebrated 96th Street station on 2nd Ave. and passed 28 stops on my way to Coney Island.
Donated products featured in this photo shoot:
Follow Stacey Axelrod Photography on Instagram and Facebook for the latest pet photos!