People have asked me "why did you choose to be a pet photographer?" Well, first of all, I'm crazy about animals, especially cats and dogs. What I love the most is how easy it is to capture an animal's true personality. They don't get self-conscious like people and most animals warm up to the camera pretty quickly. When I'm not doing pet photography, I like to shoot events and documentary stories where I can tell people to pretend I'm not there and just be themselves. I like situations where I can capture true emotion.
So when an old friend asked me to secretly shoot his surprise proposal to his girlfriend, I jumped at the chance! I've known Jason since kindergarten, but I had never met his girlfriend Katie and there was no way she'd recognize me. It was the perfect scenario: I could pretend to be just another camera-toting tourist on the streets of New York who just so happened to be nearby when this couple got engaged.
Jason and I met a few days before his planned proposal to scope out the scene. He chose The Mercer Kitchen in SoHo, the restaurant where they had their first official date. The weather report called for lots of rain, so we made plans for inside and outside.
Luckily, when Jason and I met at the restaurant on October 4th, the rain had just stopped and the leftover clouds made the most beautiful light for a proposal. Katie was out for a girls day with her friend and that friend steered her toward Mercer Kitchen around 5pm. Fifteen minutes prior to Katie's arrival, I took my spot by a light pole and did my best tourist impression. Watching Jason watch the clock during those countdown minutes was, seriously, absolutely adorable.
Katie came around the corner shortly after 5pm and was surprised to see Jason, who she thought was at home doing the grocery shopping and cleaning.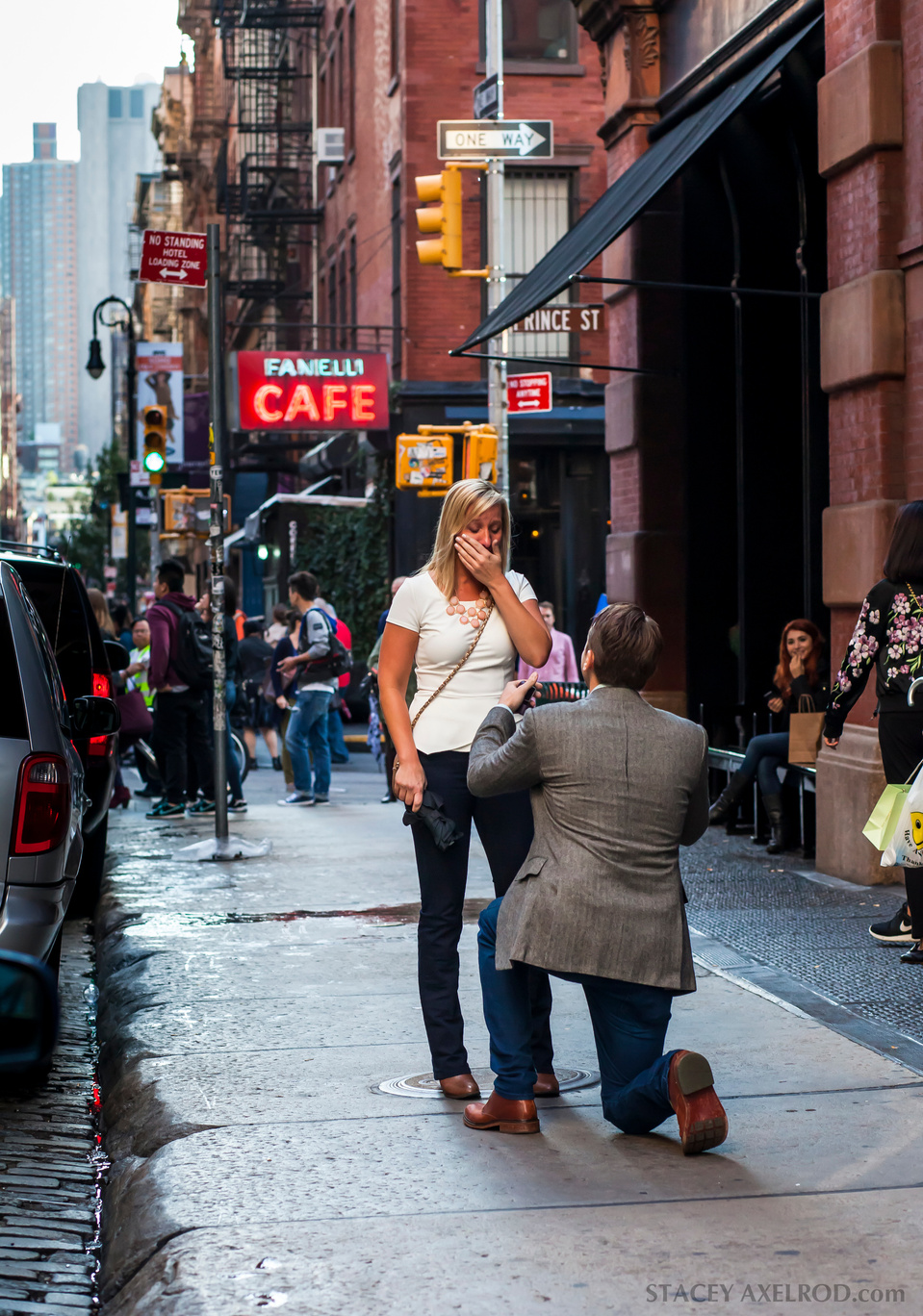 Remember what I said about true emotion? I love how you can see her whole range of emotions in these photos: from "oh hi, honey, nice to see you" to "wait, what are you doing here?" to "what's going on?" to "OMG!" to "Is this really happening?" to "YES YES YES!"
All the passersby were shocked and someone even yelled "congratulations!" while driving by. After they had some time to take it all in, Jason came over and introduced Katie to me. We did a few portraits and then they went inside for some celebratory champagne.
My fiancé managed to get a total stranger to photograph his surprise proposal to me and I am SO happy I have those photos. A moment so full of emotion should be documented and I'm so happy I could do the same for Jason and Katie.
Congrats, you two! Thank you for inviting me to be a part of this special moment.
p.s.: Jason and Katie's engagement was just featured on Buzzfeed! (#12)

© 2014 Stacey Axelrod. All rights reserved.