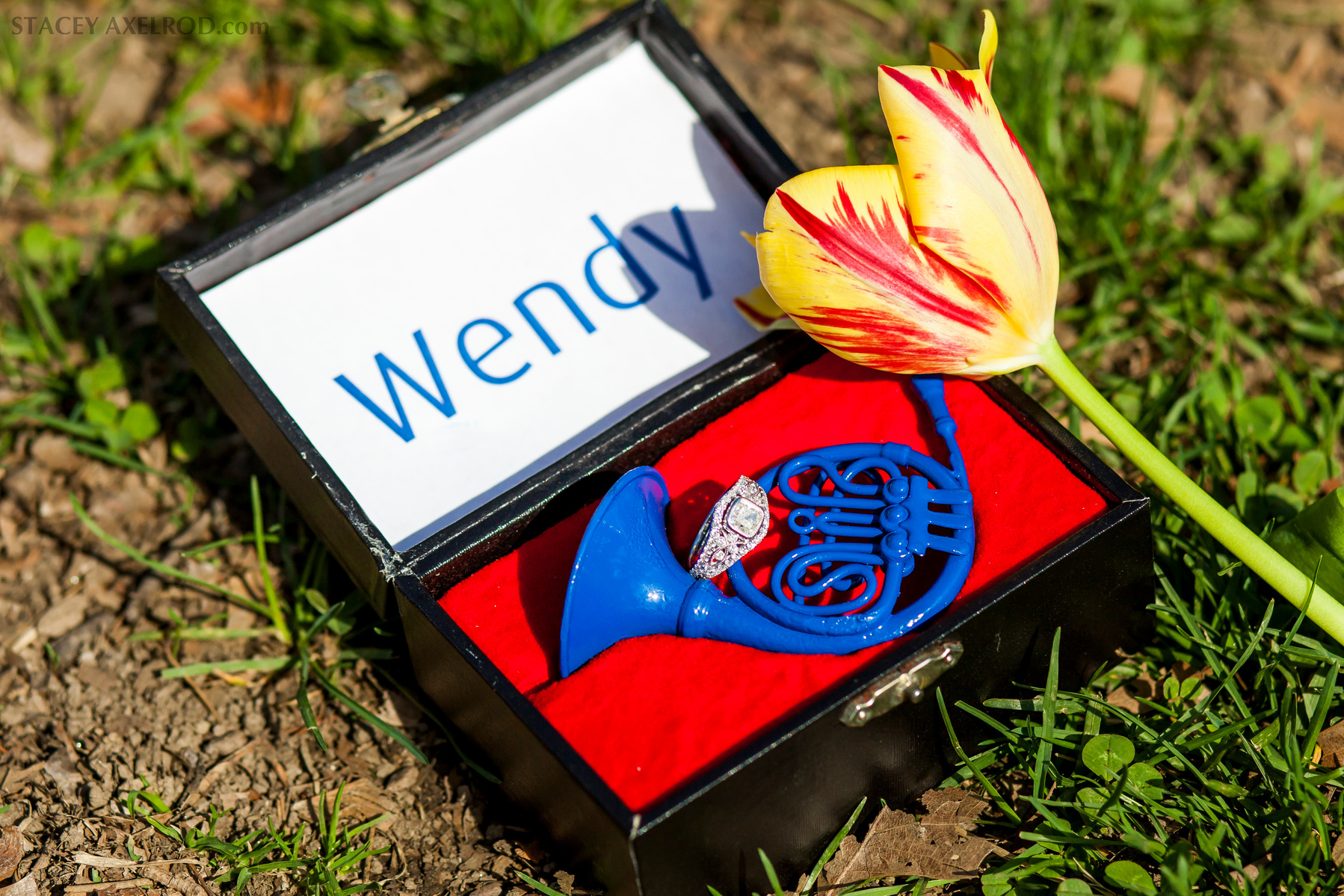 Yesterday I had the great honor of arranging and photographing another good friend's proposal. Mike not only entrusted me with documenting his surprise proposal to Wendy, but he also asked my fiancé Jon and I to help set it up. Mike's plan: They're taking a Saturday afternoon stroll through Central Park when Wendy finds a HIMYM-inspired blue french horn on a swing at her favorite place in the park. When she turns around, Mike is down on one knee. This was all planned to go down one year to the day since they met.
When we met with Mike on a cool night earlier in the week, we made a very detailed plan of which swing to use, where to place everything, and how to position Wendy for the best photos. We did not anticipate how busy the playground would be on the first beautifully sunny day of the year. When Jon and I arrived at the playground, we hovered around the swing set for a while and told some parents about our plans, but kids were still glaring at us like the mean swing-stealing adults we appeared to be. We learned a lot about swing politics, and let me tell you, those kids are tough!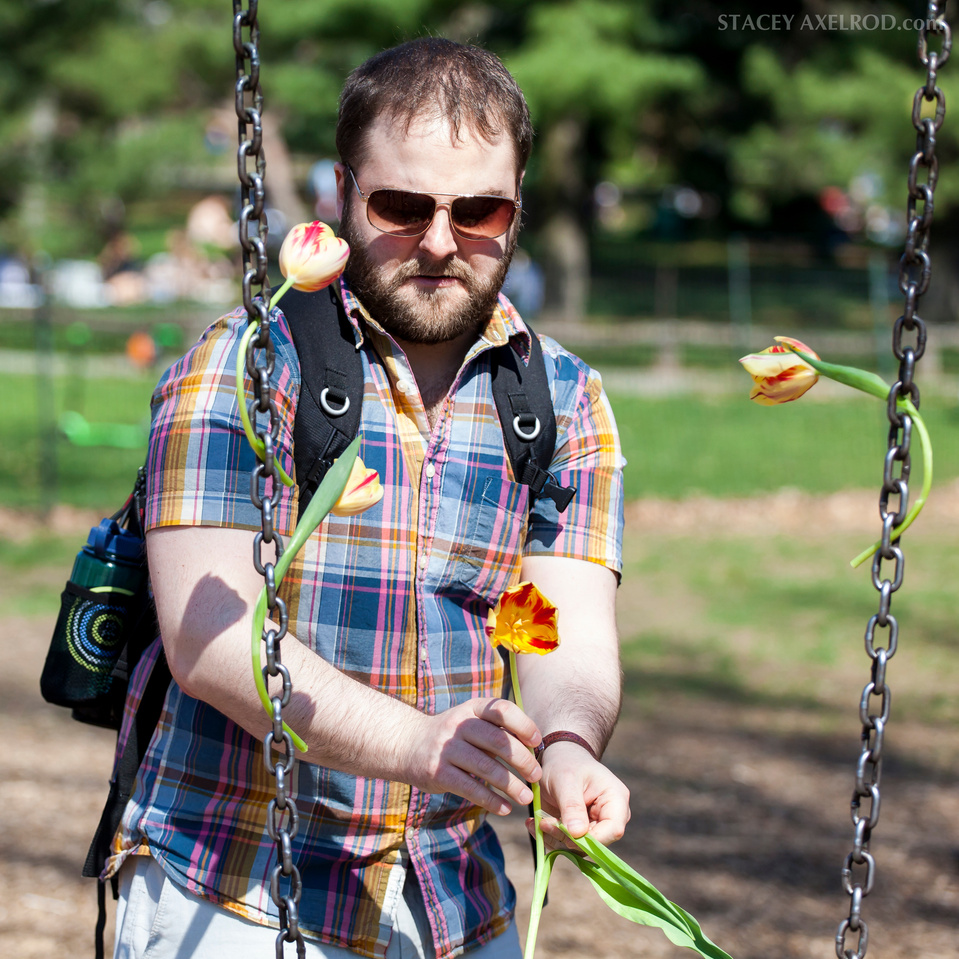 Meanwhile, Mike and Wendy were strolling toward us and time was running out. Here are the text messages between Jon and Mike (Wendy was in "Saturday Stroll Mode" and barely noticed any of this):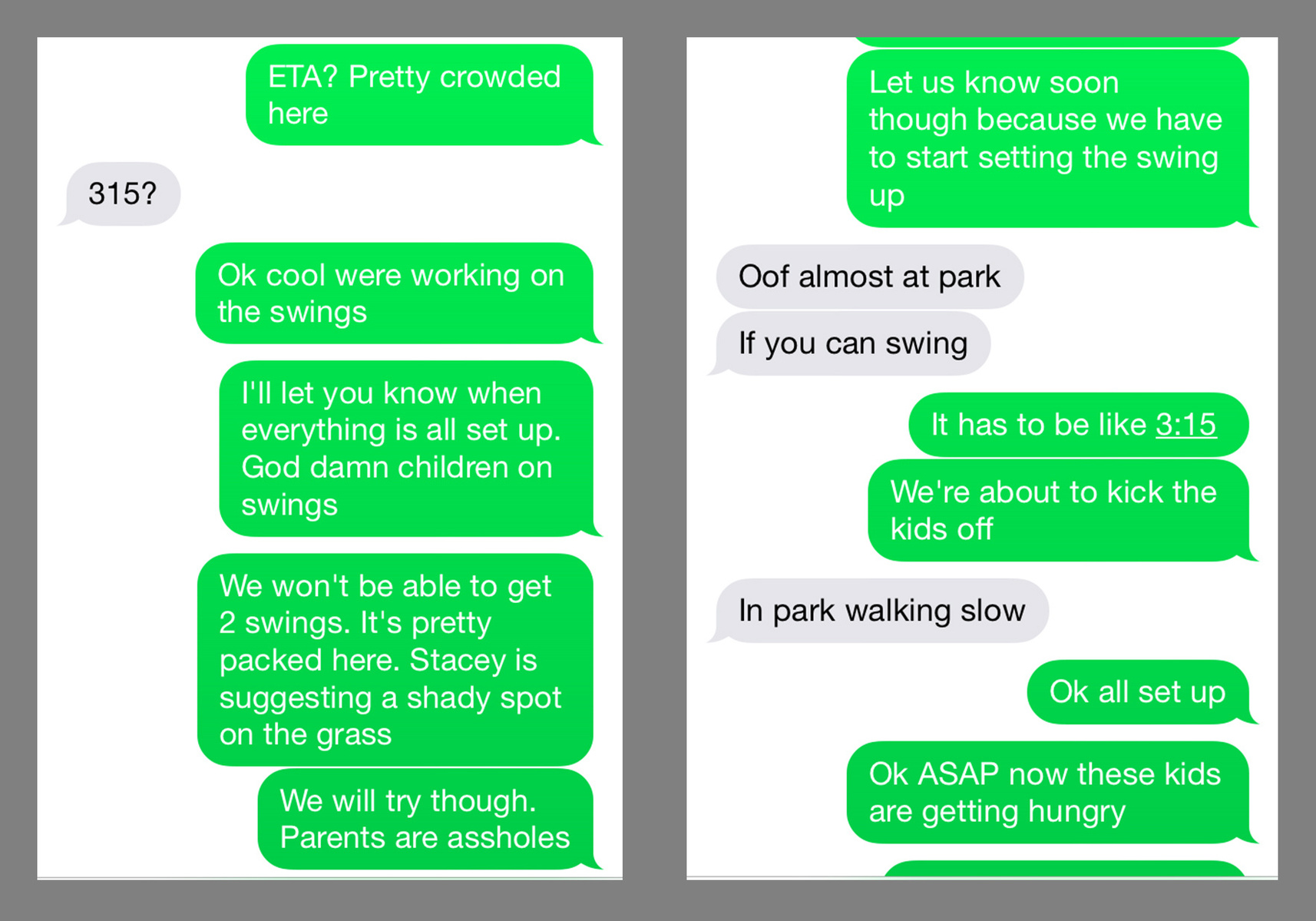 I knew we would only be able to hold the swing for about 10 minutes before there was a mutiny of children, so we got it set up quickly and told Mike to come ASAP.
We enlisted the help of a very nice father who told his daughter to stay on the neighboring swing while the proposal happened. I took a seat on a distant picnic table just in time for Mike and Wendy to arrive.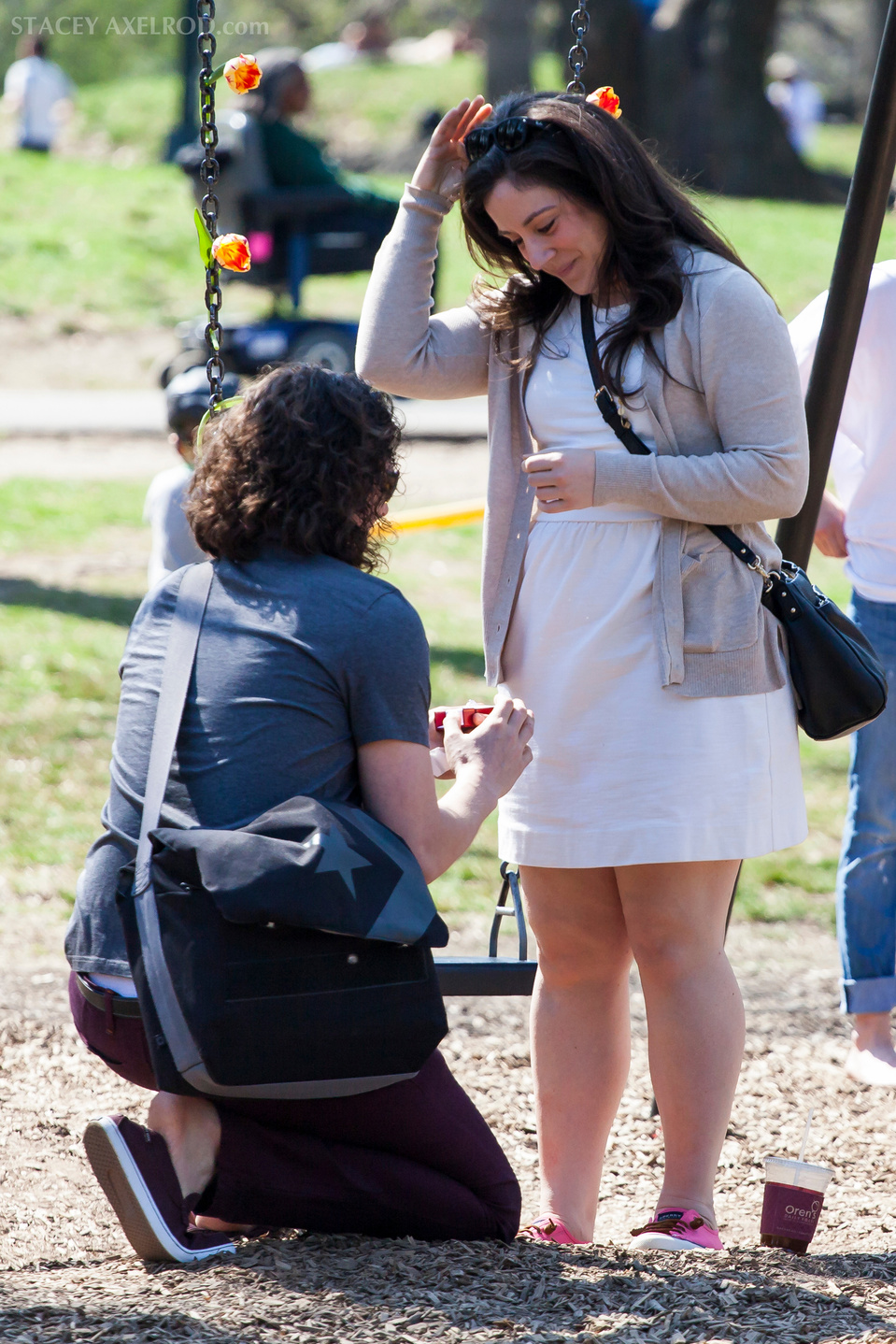 The whole playground erupted in applause when she said yes!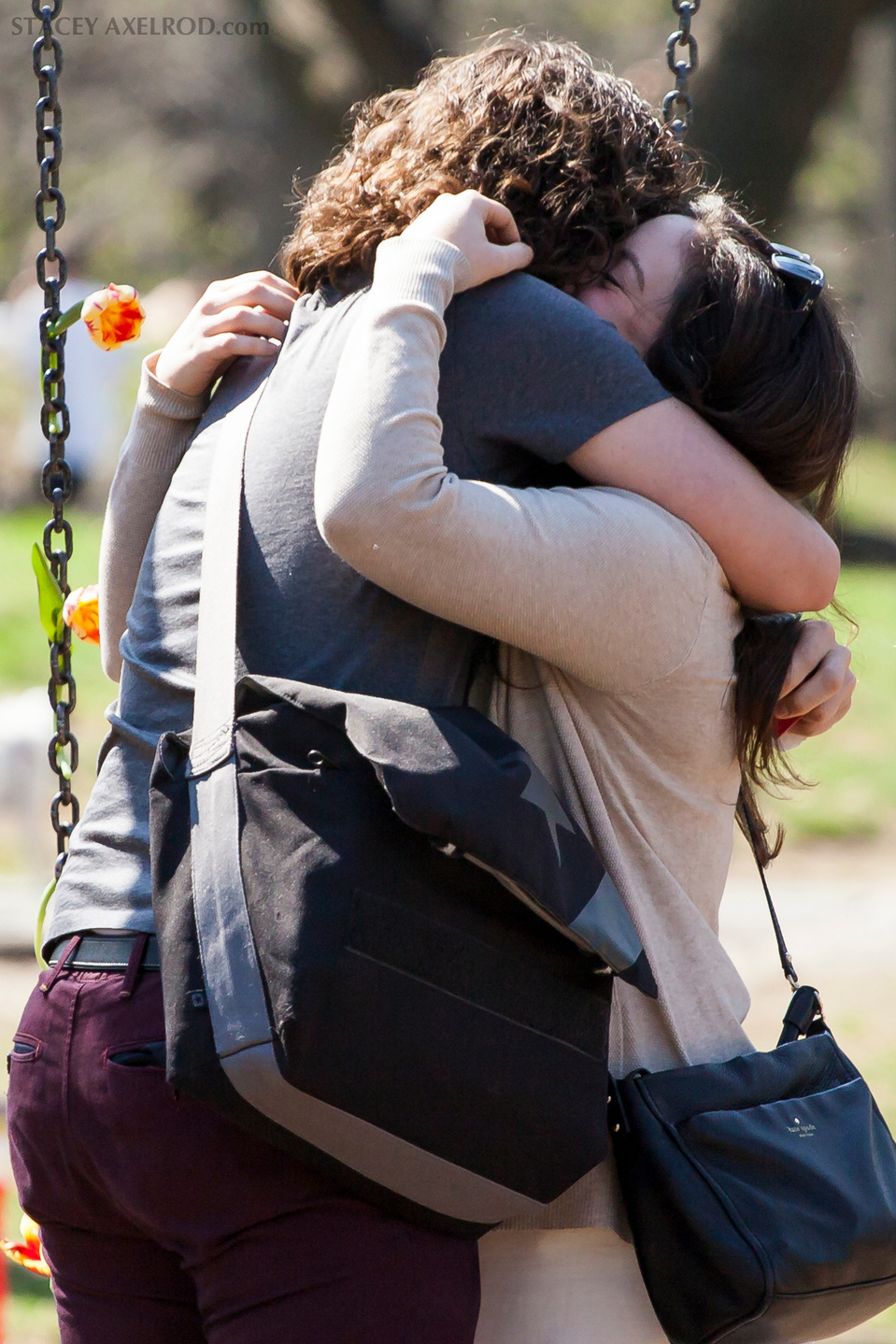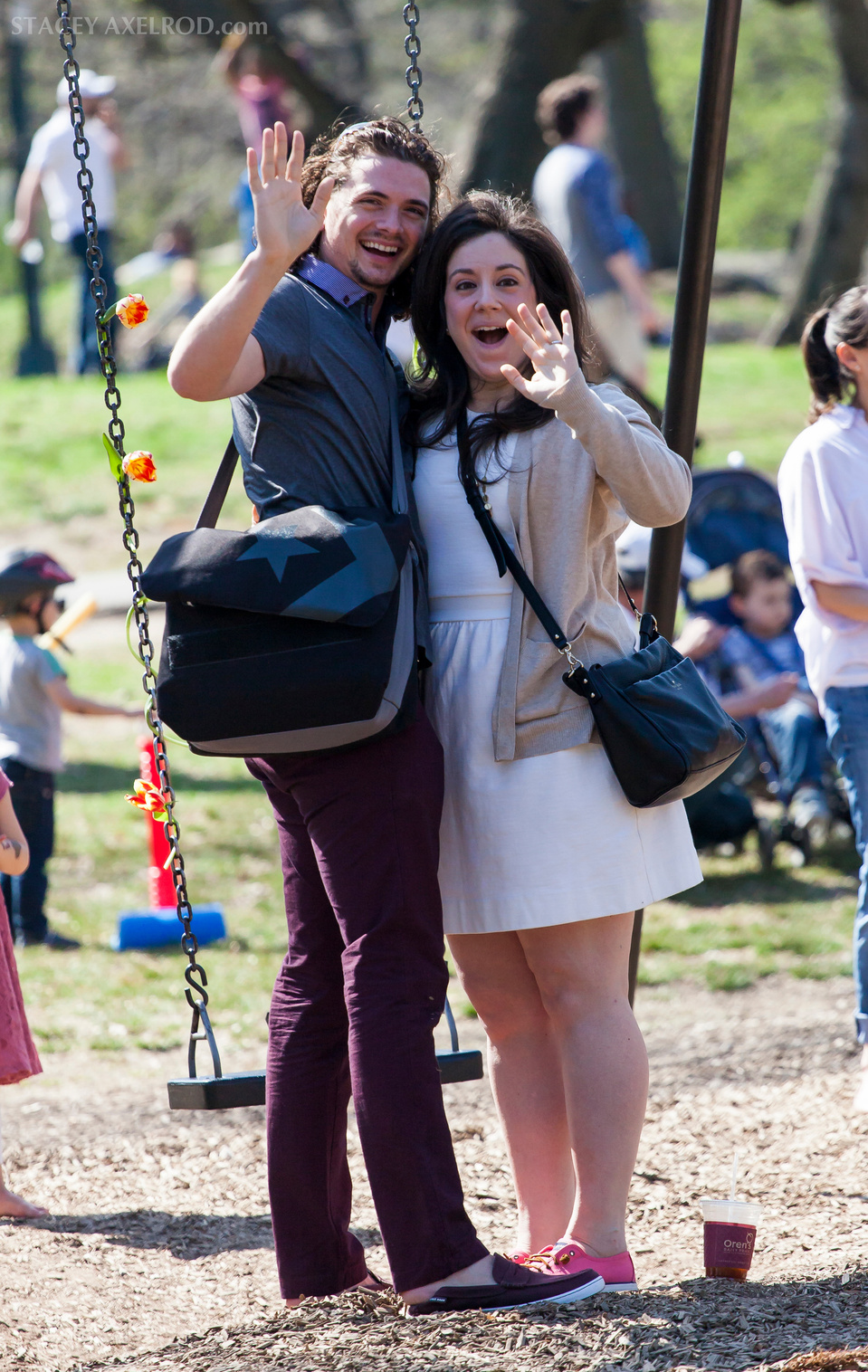 The swing and the tulips didn't last long. One adorable girl, who we learned is going to be a flower girl in two weeks, couldn't stop smiling at Mike and Wendy and came over to see the french horn.
What's the added benefit of having a professional photographer capture your proposal? Instant engagement photos! And also to Wendy's surprise, this was all followed by an engagement party that Mike arranged at McGee's Pub, the inspiration for McLaren's Pub on How I Met Your Mother.
Mike and Wendy, we are so happy for you and so honored to be part of this beautiful moment!
Follow Stacey Axelrod Photography on Facebook
© 2015 Stacey Axelrod. All rights reserved.